Since the implementation of the GDPR, privacy has become a priority. We show you how you can increase your privacy in Windows 10.
Configuring Privacy Settings in Windows 10: Installation, Promotional ID, Cortana, Ink Writing, Activity History, and Location
The latest operating system from Microsoft, Windows 10, may collect a large amount of personal information about its users and share it with Microsoft. If you don't want that, you can adjust some settings on your operating system to improve your privacy.
After the release of Windows 10 in 2014, there was initially a lot of criticism about the large amount of requested personal data that was sent to Microsoft. The Redmond-based company responded to this criticism from the Federal Office for Information Security, consumer advice centers, and other institutions with the "Creators Update," among other things. Since then, Windows 10 has been providing information on how users can set the operating system to save data as much as possible, but if you don't pay attention, there may be many options. This allows the privacy settings of Windows 10 to be chosen much more precisely than with older operating systems such as Windows 8.1.
That's why we've put together a tutorial on how to improve your privacy using Windows 10 and explain step by step what each privacy setting means. Because the possible privacy settings of Windows 10 are very extensive, this tutorial appears in two parts.
A general rule: You can deactivate any service that you do not need.
Privacy when installing Windows 10
During the installation process, Windows 10 users are prompted to make many privacy-related choices. For example, the operating system asks about the extent of diagnostic data that should be automatically sent to Microsoft. Users can choose between two options: "Full" and "Standard."
If you didn't consider the data protection settings of your operating system during installation, you can change them later via the system settings, which can be accessed using the WINDOWS+I keyboard shortcut.
The advertising ID
Windows 10 has implemented the "Advertising ID" feature. Under this personal advertising ID, Windows 10 saves information about each user's interests and the websites they visit. Microsoft uses this information to offer its users advertising suggestions that are as personalized as possible.
Microsoft shares this information with third parties. As a result, if you use applications such as Twitter on your computer, you may also see personalized advertising within them.
If you do not want to see personalized advertising, you should also deactivate the options "Allow websites to access your language list" and "Allow Windows to track app launches."
Cortana and inking
With Windows 10, Microsoft offers a language assistant called Cortana. Similar to Amazon's Alexa and Apple's Siri, Microsoft promises that Cortana will learn to recognize your voice and, over time, will better understand your speech inputs.
In order for Cortana to "get to know" your voice, recordings of your speech inputs are sent from Windows 10 to Microsoft for analysis. This means that Microsoft knows all the tasks you have set for Cortana. If you don't want this, you should turn off Cortana.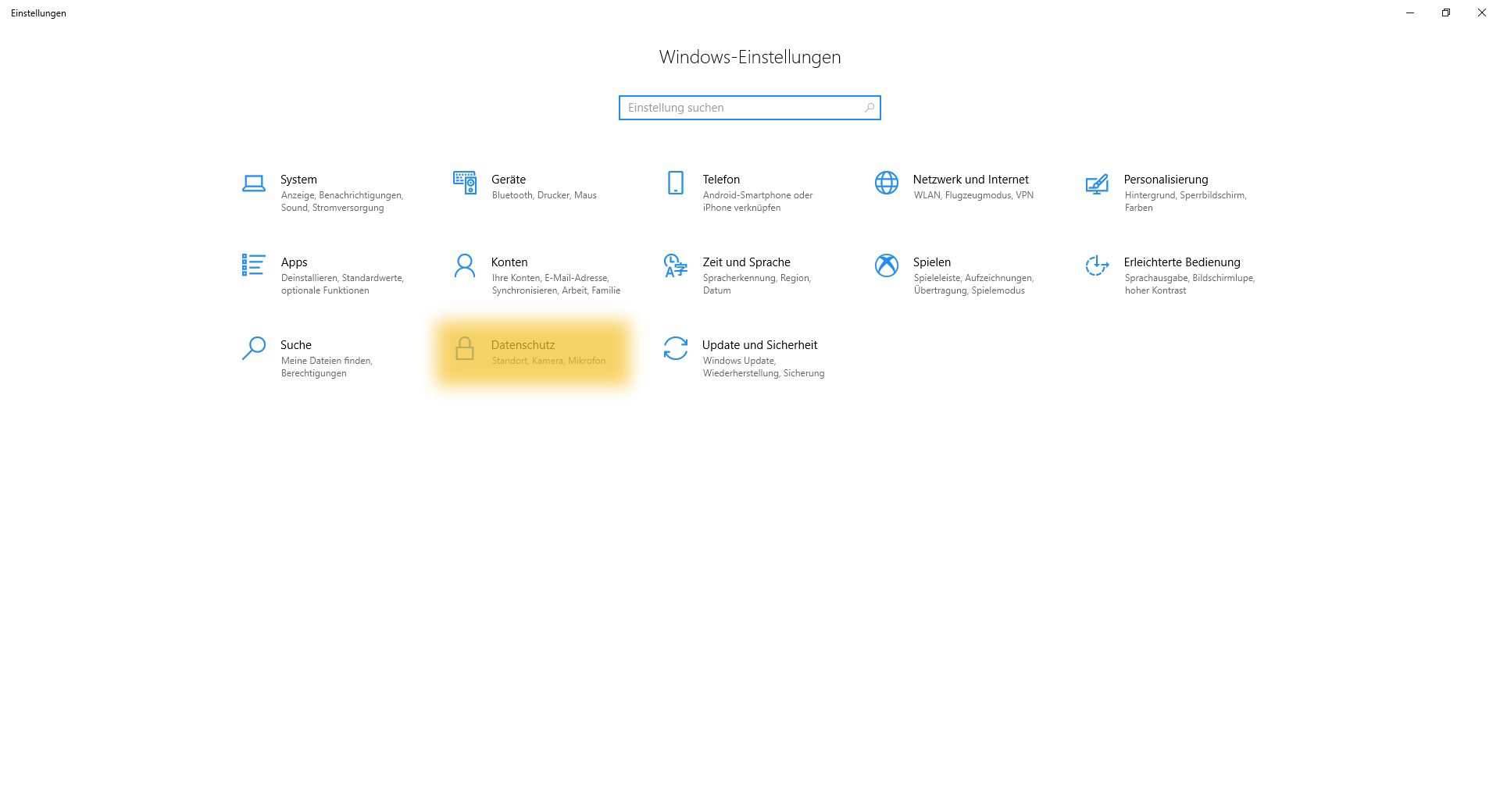 To completely turn off voice control, you have to change registry entries. For those who are not familiar with computers, it is sufficient to turn off automatic speech recognition.
To do this, open the system settings (using the WINDOWS+I keyboard shortcut) and select the "Privacy" submenu. On the left edge of the screen, you will find the "Speech recognition" option.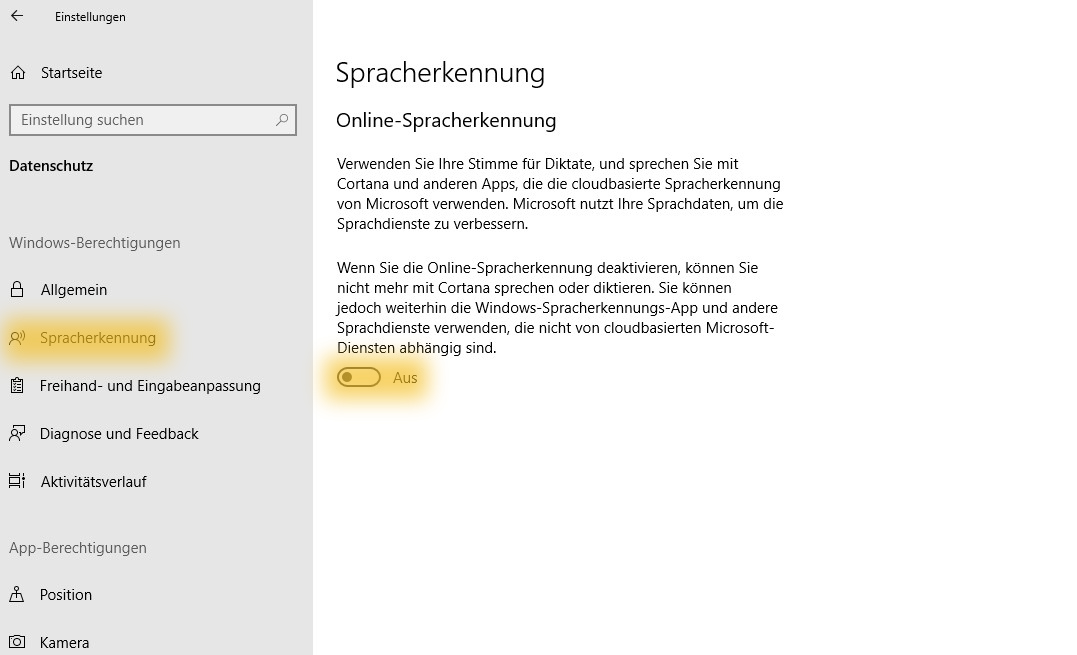 Under "Speech Recognition," you can set "Online Speech Recognition" to "Off." There is no way to disable only the passing of commands to Microsoft while continuing to use Cortana.
Freehand writing is a new feature of Windows 10. Unlike voice inputs via Cortana, the recognized words remain stored on the device on which Windows 10 is currently installed. It is currently not known whether the dictionaries will be forwarded to Microsoft. If you don't want to control your computer with hands-free writing anyway, you can turn it off just to be safe.
Your activity history
With Windows 10, you can automatically create a list of the websites you have visited and the programs you have run. This list can be maintained locally or sent to Microsoft. If the list is sent to Microsoft, you have the advantage of being able to work on a document across multiple devices, like in a cloud.
For example, if you start a text document on your laptop, you can later finish it on your desktop PC.
If you do not use this function or do not want Microsoft to receive a list of your user behavior, you can turn off this list.
To do this, go back to the system settings and select the "Privacy" submenu. On the left, you will find the "Activity history" option.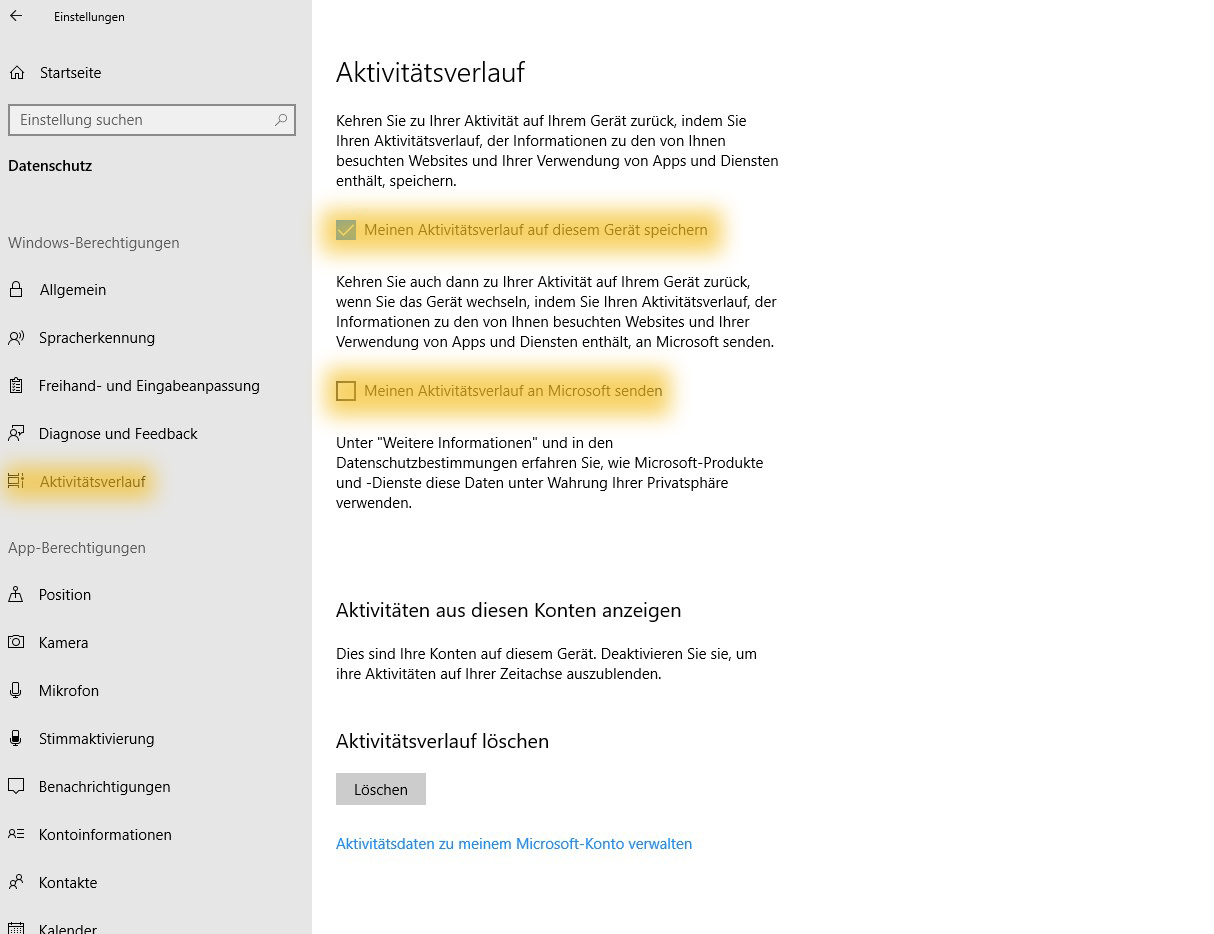 In the "Activity history" section, you can select two options. If you only want to keep a list on your device, you can enable the "Store my activity history on this device" feature. If you also want to send the list to Microsoft, activate the "Send my activity history to Microsoft" option.
Position history
If you don't want Windows 10 to send your location to Microsoft, you can turn off the "location detection" function. To do this, open the "System Settings" again and select the "Privacy" submenu. You can find the option under the "Location" item on the left edge of the screen.
If you don't want applications that are not part of Windows 10 to be able to access your location, you can also turn off this function in this submenu.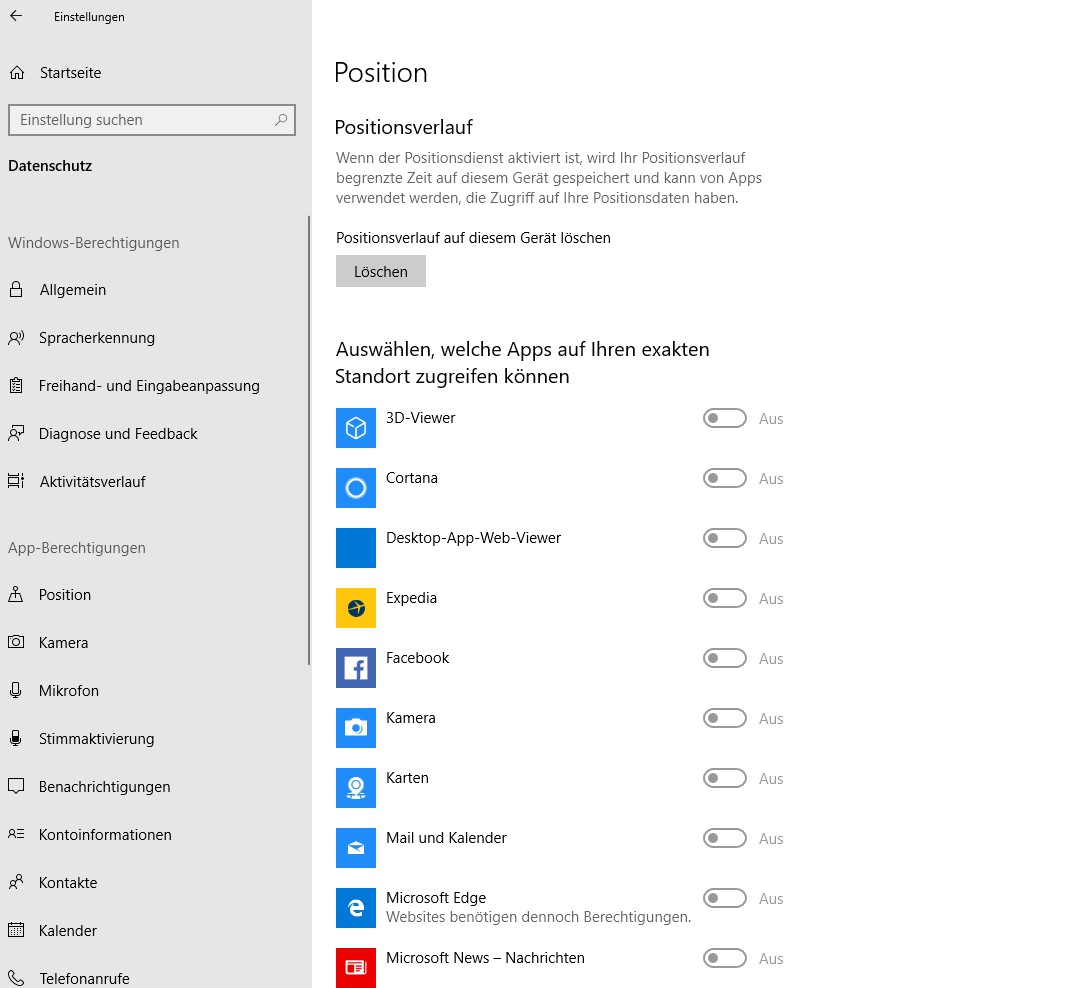 If you have turned off location detection in Windows 10, applications usually cannot access your location either. The button for this is automatically set to "Off" if location detection is deactivated.
Not all third-party applications are integrated into the Windows 10 system. Therefore, to be on the safe side, you should check the privacy settings of all non-Microsoft applications separately. Windows 10 lists these further down in the "Location" submenu of the settings.
If you previously activated your location history and no longer wish to do so, you can also delete your previous location data. To do this, click on "Clear" and then "Clear location history on this device."